Is 2020 cancelled, did I survive the virus and what have I been up to?
Recommended listening
---
Back with another humongous update! Brew a coffee ☕️, get some dark chocolate and strap in for a long read.
This blog post was first started in April 2020 and resumed in August 2020 - it will focus on everything that happened in Q4 2019 and the first half of 2020. And boy what a year 2020 turned out to be.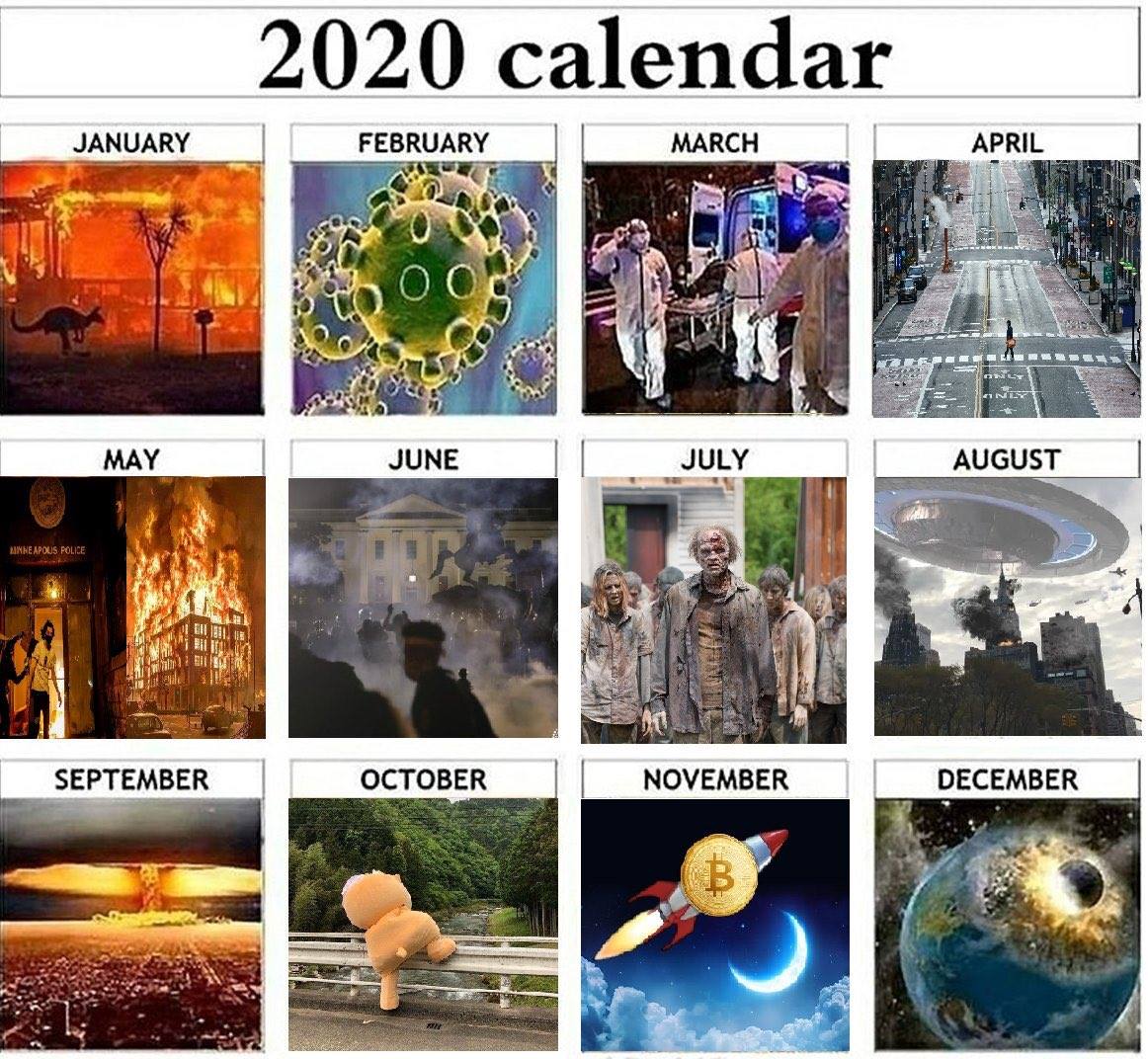 Winter 2019
I spent the winter focusing mainly on work while playing around with my diet - went hard into Keto and even tried the Carnivore diet. Not much else has come out of it, apart from a more mature, smart and wise Stan.
Like I said in the past update, it was time to dial in on more life-sustaining pursuits.
I've had enough traveling and am looking forward to get back into my controlled environment - I'm talking proper nutrition, sleep, workouts and work schedule. One of the things I'm looking forward to most is more time for reading, introspection and thinking.
I spent the winter mostly couped up at home, with the 1-2 weekly trip into the office to see some familiar faces. I used the additional time I had to be productive at work, focus on a strict mediterranian ketogenic diet and maintain a good gym schedule. Despite sounding boring, I'm pretty happy with these weeks. I had a strict schedule where I went out for a quick run first thing every morning ~6AM (a great way to wake up!) and listen to Niyi Sobo's Mental Reps. That really gave my days a great start.
Followed up with some bulletproof coffee and a brain-healthy supplement stack, I was buzzing and razor-sharp all day. I spent a lot of time learning about keto and it's benefits. I also wrote 7 articles on the subject called Keto Bombs. Further, I finally posted my article on Deep Work. After getting up to speed on cooking all sorts of delicious keto dishes, I can say that this is my preferred way of eating. I tend to avoid non-fatty foods nowadays and my cravings for carbohydrates are at an all time low - they just don't appeal to me anymore.
Travel-wise, I had a short trip to Sofia to celebrate my girlfriend's birthday. Shout out to Militsa - happy 21!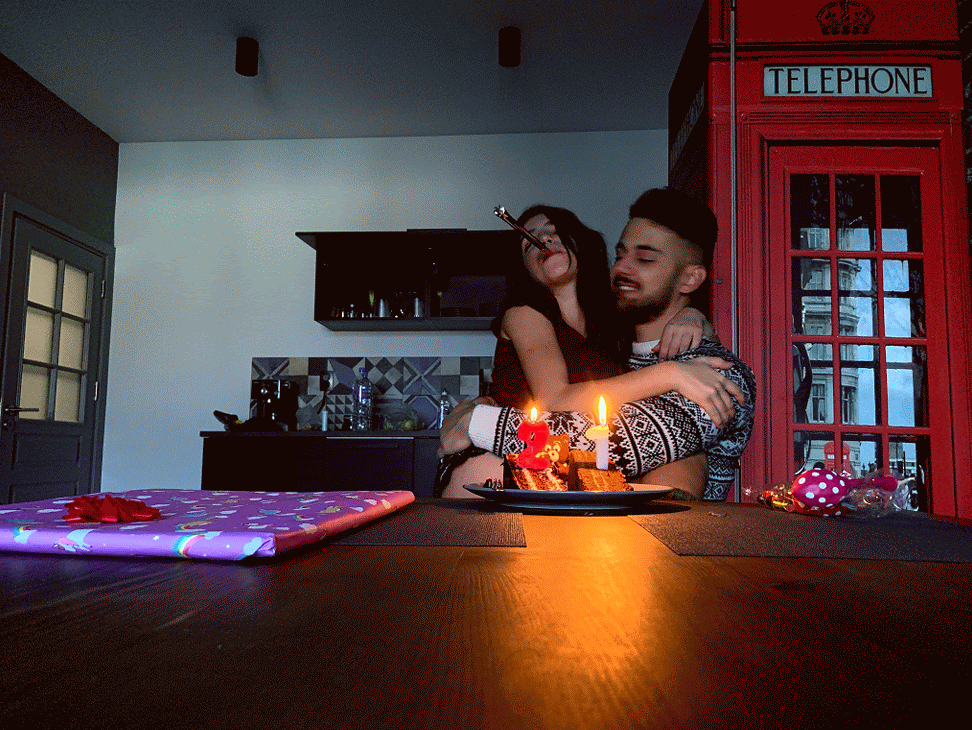 Fitness-wise, I tried out Muay Thai - awesome sport, would do it every day if I had a decent class near home. In fact I did a fair amount of solo boxing work. I also did some Yoga classes which also proved fun and very grounding - one of my favorite habits.
Music-wise, I transitioned to a hefty amount of old-school west-side hip hop. I've been learning more about the history there and have mainly listened to Xzibit and Tupac. It's nuanced, but if you can look through the harsh lyrics you will find some heartfelt messages and experience art.
Period-defining song
To be completely honest, after this period I grew tired of staying home. It was probably the mix of no sun, cold weather and early dusks that burned me out. During this time I would stay home 90% of my day, with the only exception being the gym (again indoors) and the occasional supermarket trip. The sun would set at 4PM and I would typically finish work in between 6-8PM. Being closed off alone in my small 40m2 apartment for the whole day left me extremely bored during the evening - there was nothing to do given that it was extremely cold outside and most other people stayed home or were more than an hour's cold commute away from me. 🌘❄️🥶 I could spend the time mindlessly watching movies or playing video games but you know I'm against wasting my time like that.
This began to reveal the downsides of home-office work during the winter. You can really feel the isolation then. I predict that this will prove a big issue in Winter 2020 now that most knowledge workers are working from home.
I was again craving to visit an office and socialize more often.
Thankfully, I had Militsa visit me in London for New Years!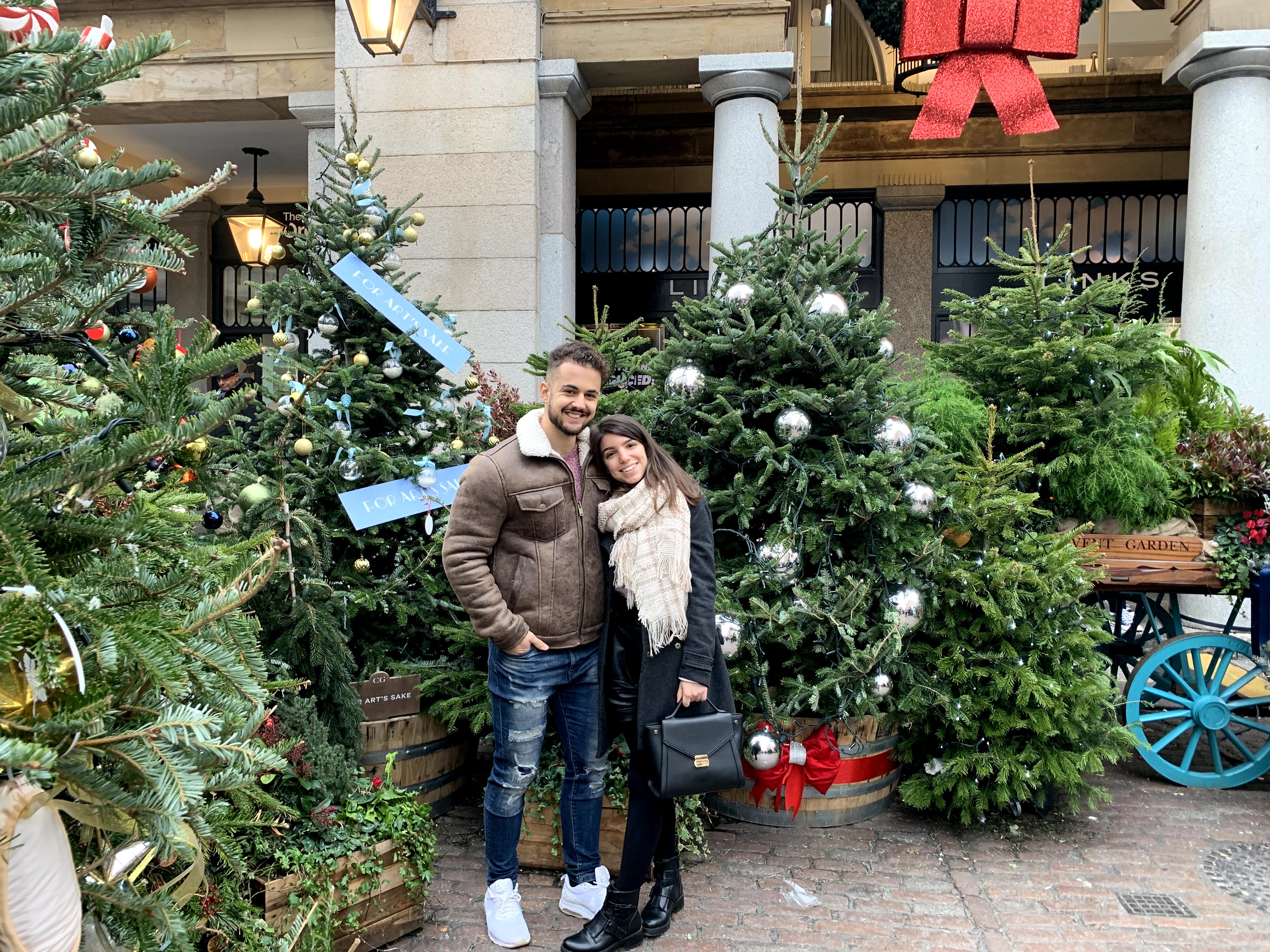 With that, we said goodbye to 2019 and welcomed 2020!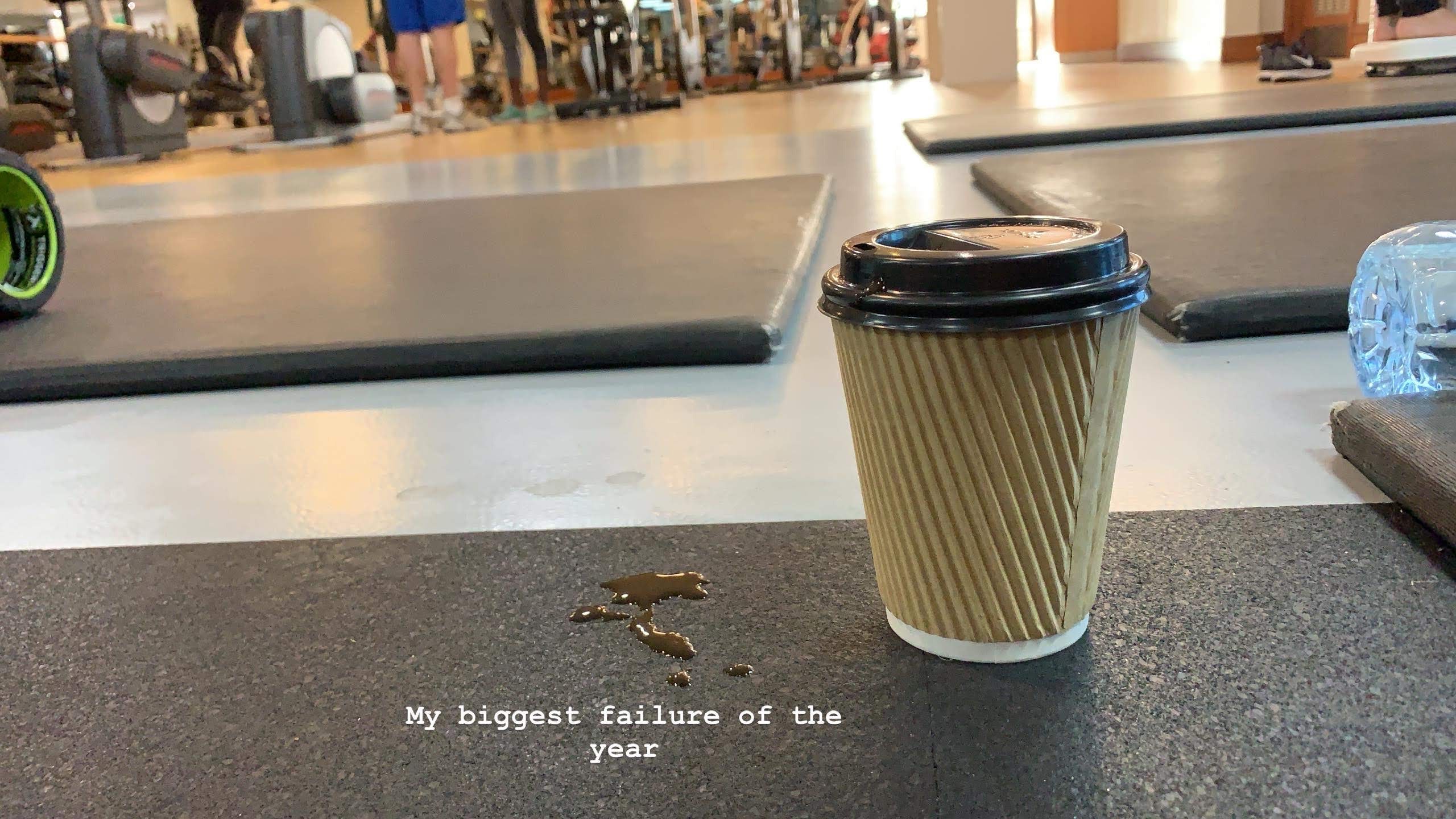 2020 😱
Thankfully, we started 2020 with a bang! January had a good amount of travelling planned with it :)
Cali
I spent two weeks in California, visiting the team and working out of HQ. We were about to have a company kick-off where everybody from around the world gets together, so I amortized the travel costs with a HQ visit. I crashed in a nice backhouse AirBnB in San Jose. Amazingly decorated, I happened to be their first guest!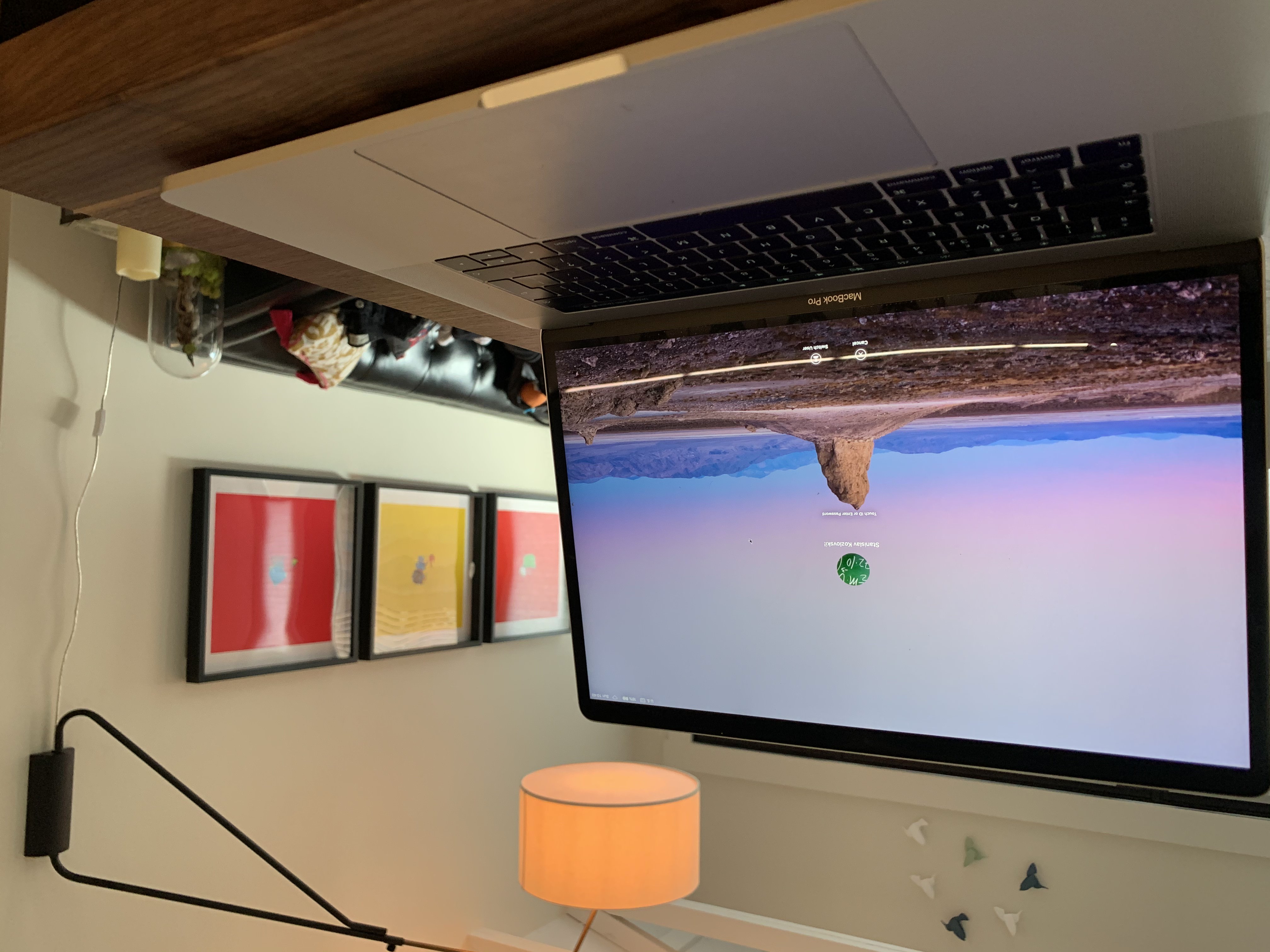 An awesome two weeks - I was very consistent with my diet and workouts. I would get up at 4:45 AM, get a good workout in and start work at around 7-8AM. Visiting our new Mountain View office was also much fun - work is always more engaging when you're right next to the action, rather than remote some 8600km away.
During this time, I was trialling a pure Carnivore diet. For the unaware - that basically means meat + eggs, nothing else. OK, I cheated with some coffee. Yes, this means I was the guy who brought self-cooked steaks to the catered lunch at work every day. I once got a comment from somebody saying "that looks legit".
I have to say that I was very happy with the diet - I had zero cravings throughout the period (which lasted around 3 strict weeks) and was well satisfied from one or two meals a day, with absolutely nothing but water in between. I shed some fat pretty easily out of this diet and my overall well being was great - I felt focused and light. I was ecstatic about this diet - I had never had so much satiety in my life! It's so fulfilling it's unreal - I rarely got to think about food. Another funny thing is that meat never gets old - Ribeyes are god-tier food, always satisfying, mouth-watering and filling. I enjoy its simplicity - eating a very bare-bones meal (e.g two steaks) is pretty minimalistic and oddly satisfying. This is what an ideal diet should be - getting all the nutrients you need from the most limited amount of food possible and eating purely for satiety. Optimizing for food that is satiating, delicious and nutritious is the key to solving many diet-induced health problems. Brain fog and weight gain is impossible on the carnivore diet.
Ever since, I've been learning more about it and while not as strict, meat (beef, mainly) has been and continues to be my main diet staple.
LA
Lucky me, it turned out that one of the Mondays I was in the US was a holiday there. Found with a three-day weekend, I had to take advantage and travel somewhere. An appealing place in the middle of January is – you guessed it, Los Angeles! Me and Dido (who also works in the same company and visited HQ in the same time) rented a convertible and drove down for two nights. LA was amazing - I enjoyed the city very much. There's something very appealing about its culture - I can see why it's been sung so much about.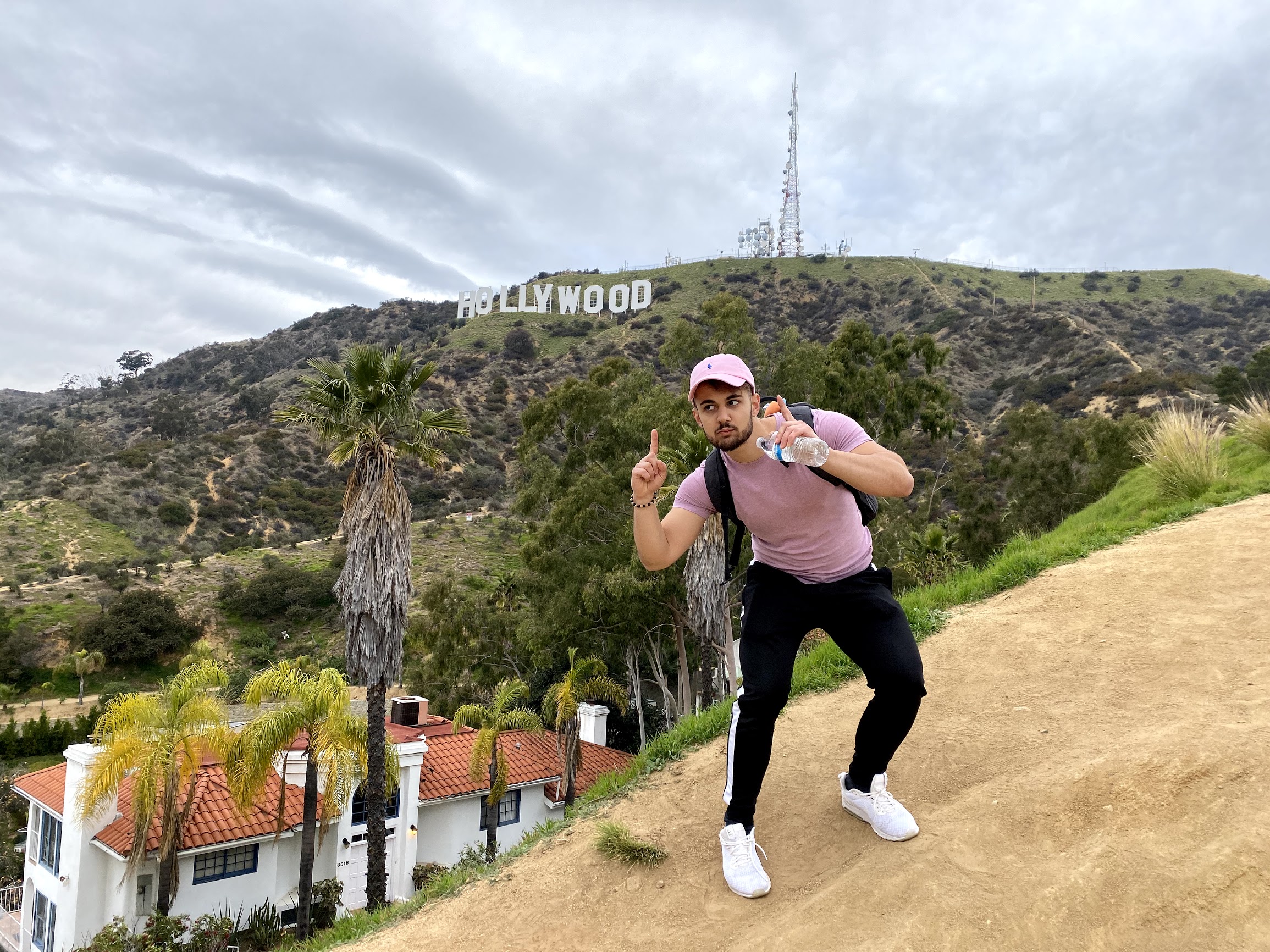 Excuse the next blurry pic but the background was too good to pass up!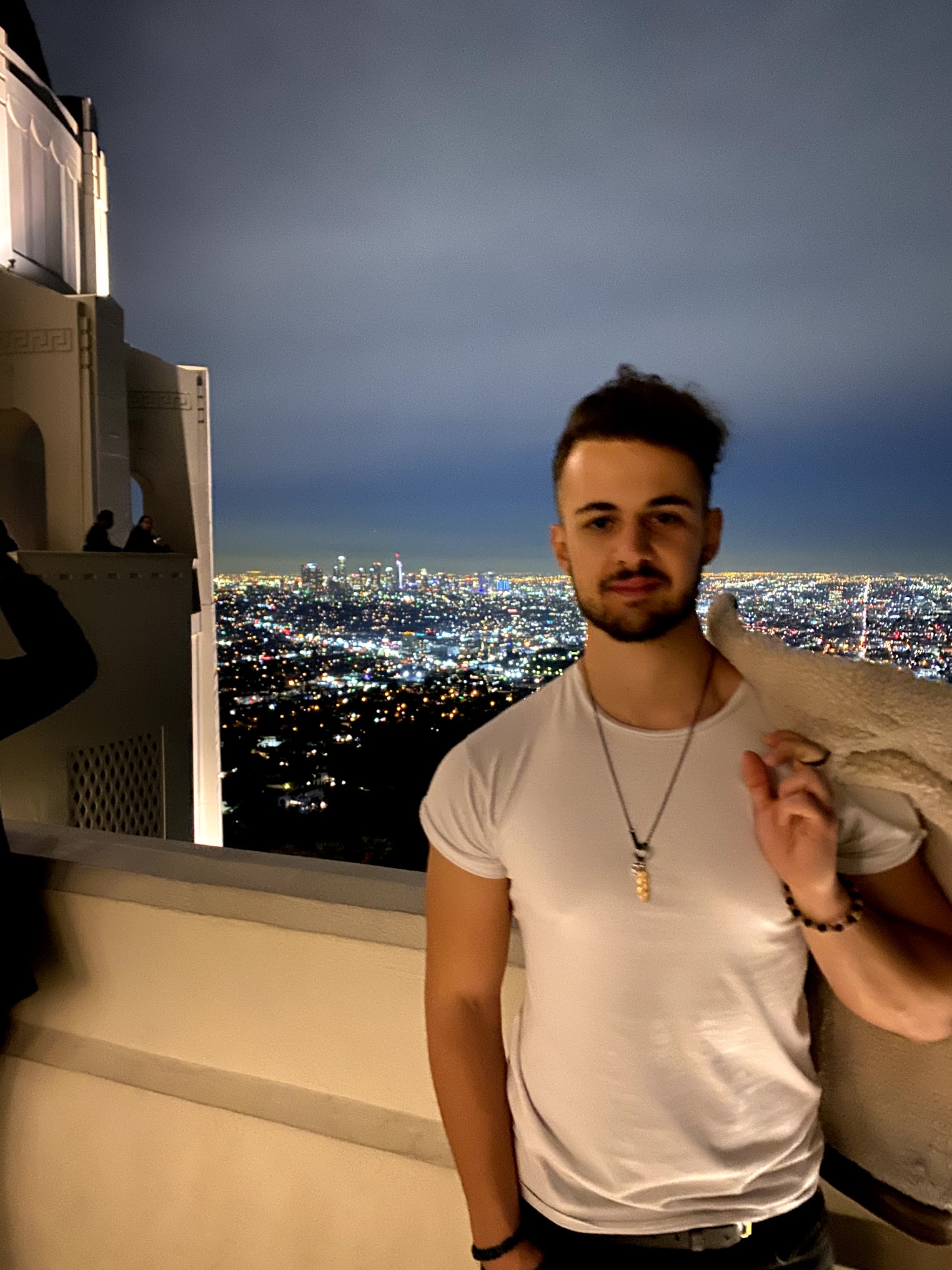 Not to mention visiting the Mecca of bodybuilding. It felt pretty cool to train in the same place where legends like Arnold did decades ago.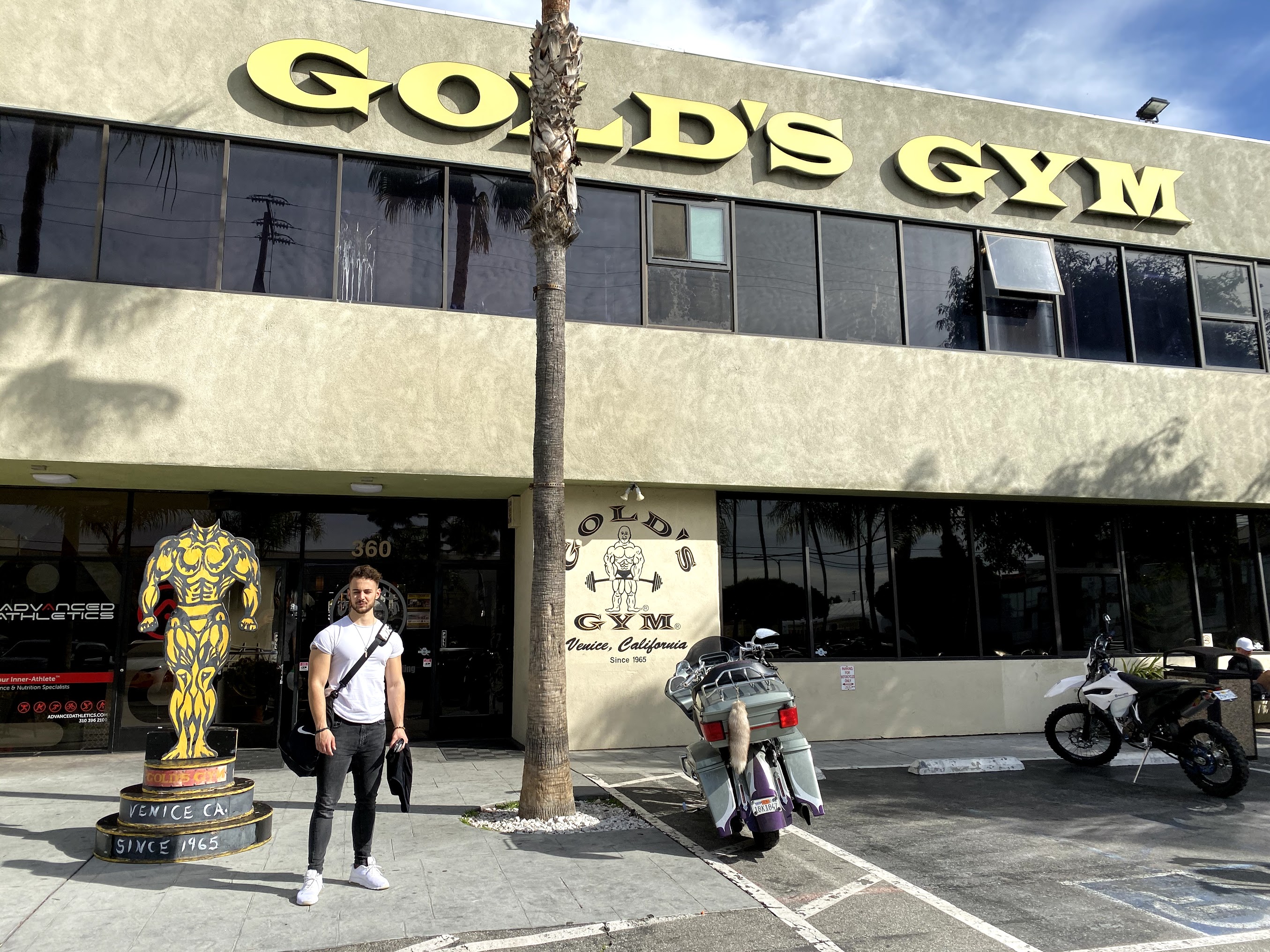 Boat
Back to a working week up north in the valley, we had 4 more days before we'd start packing for the company kick-off. Excitingly, the kick-off was hosted on a cruise ship!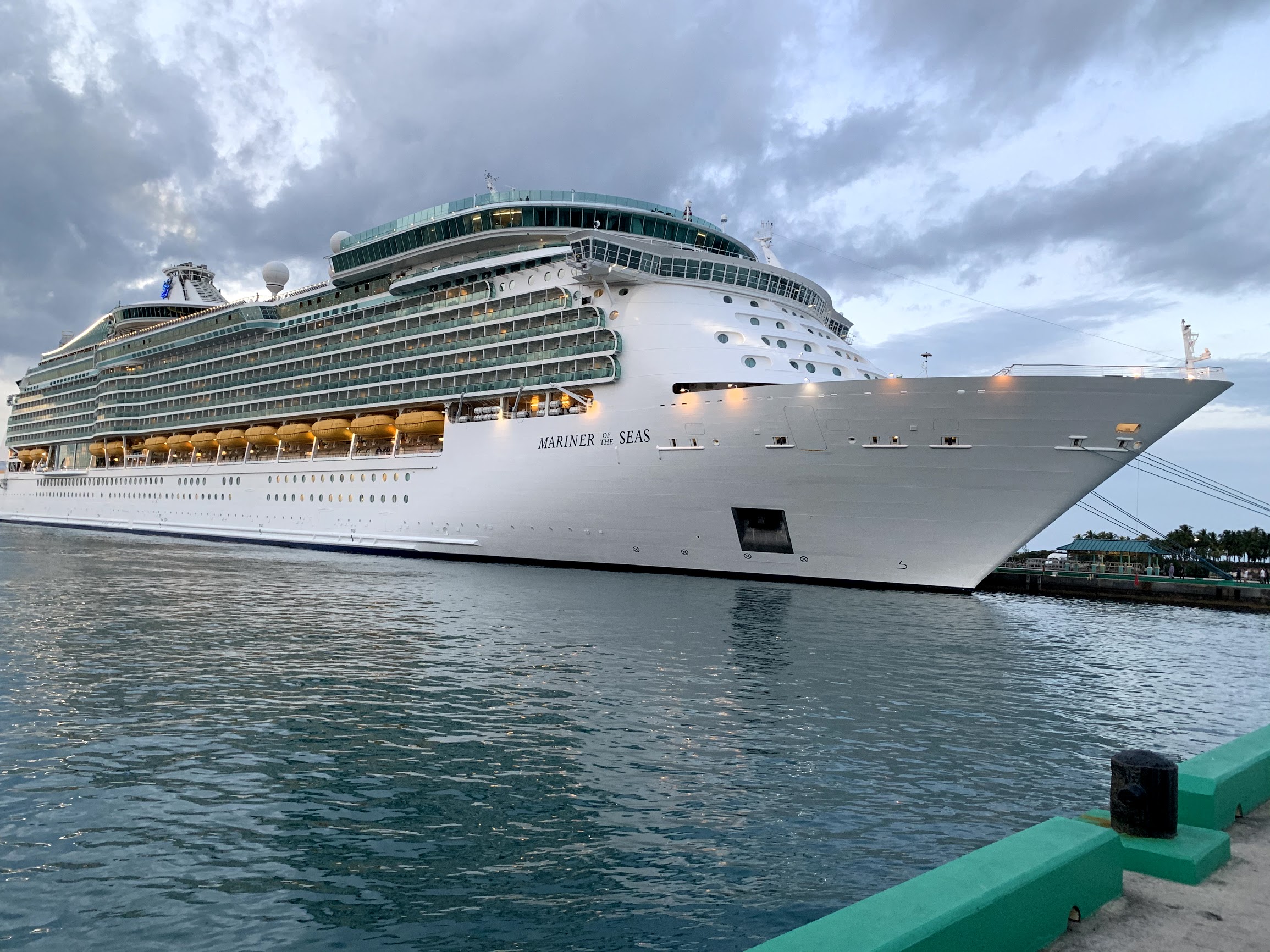 You got it right, in February me and my company were all on a cruise ship. Little did we (or anybody else in the world, really) knew the risk associated with it. At the time, the Coronavirus was very lightly heard of in Western media and brushed off as just some new disease.
Regardless, we flew to Florida and then travelled to the Bahamas for 3–4 days on the boat.
People might think that this was all parties but that's was not the case - we had days fully-booked with work sessions consisting of presentations and brainstorming. I had a great time networking with everybody in the company again and had a lot of fun during the free time we had on the ship.
I also appreciated the location we hosted the gathering in - it was an awesome, refreshing feeling to experience the sun's rays in a tropical climate in the middle of February.
I don't think many companies will ever gather their whole company on a cruise ship again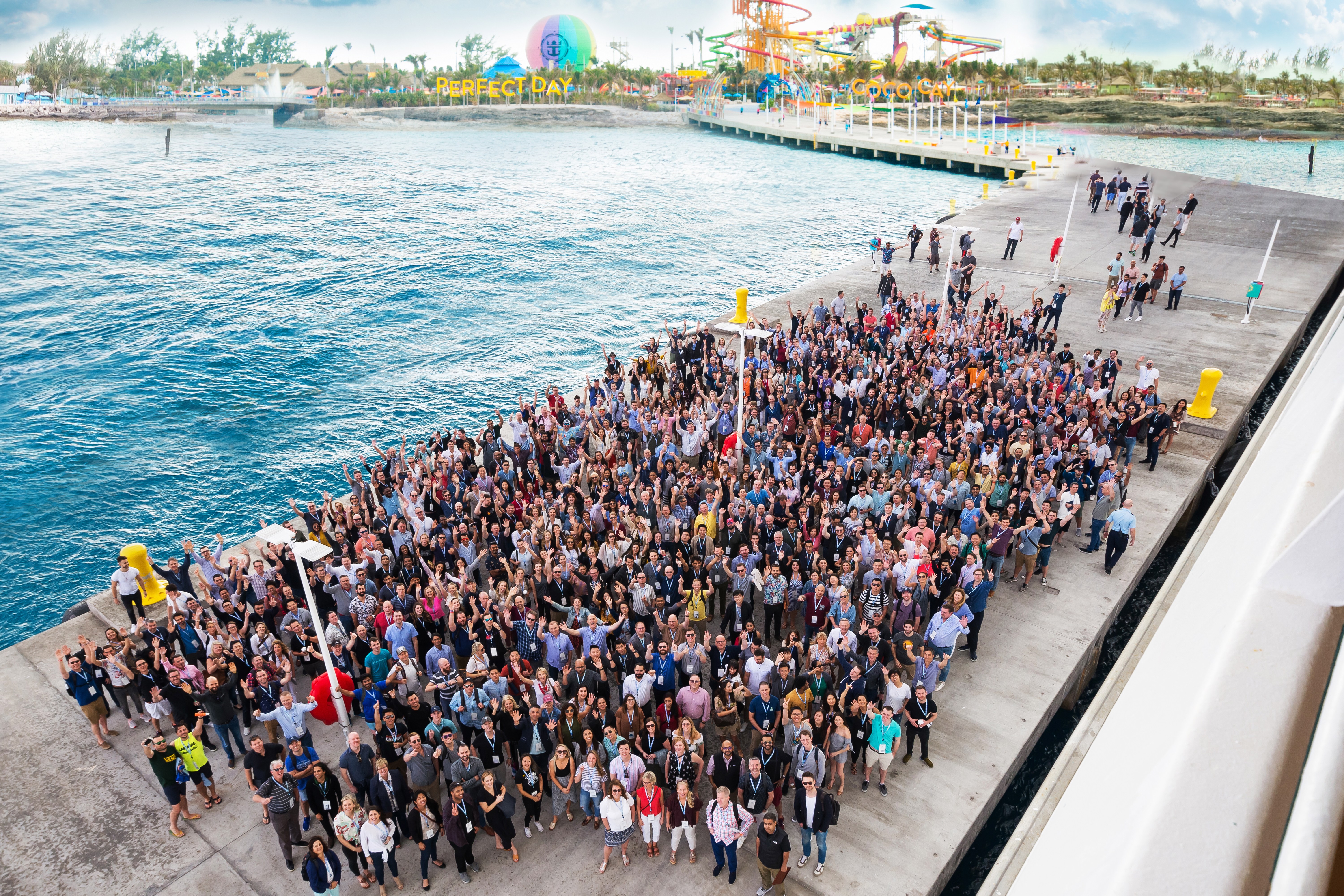 (all 1000+ of us :))
Florida
This was the first time I was in Florida and there was no way that I wouldn't make use of the opportunity to explore some more. I took a couple of days off after the gathering and drove across Florida!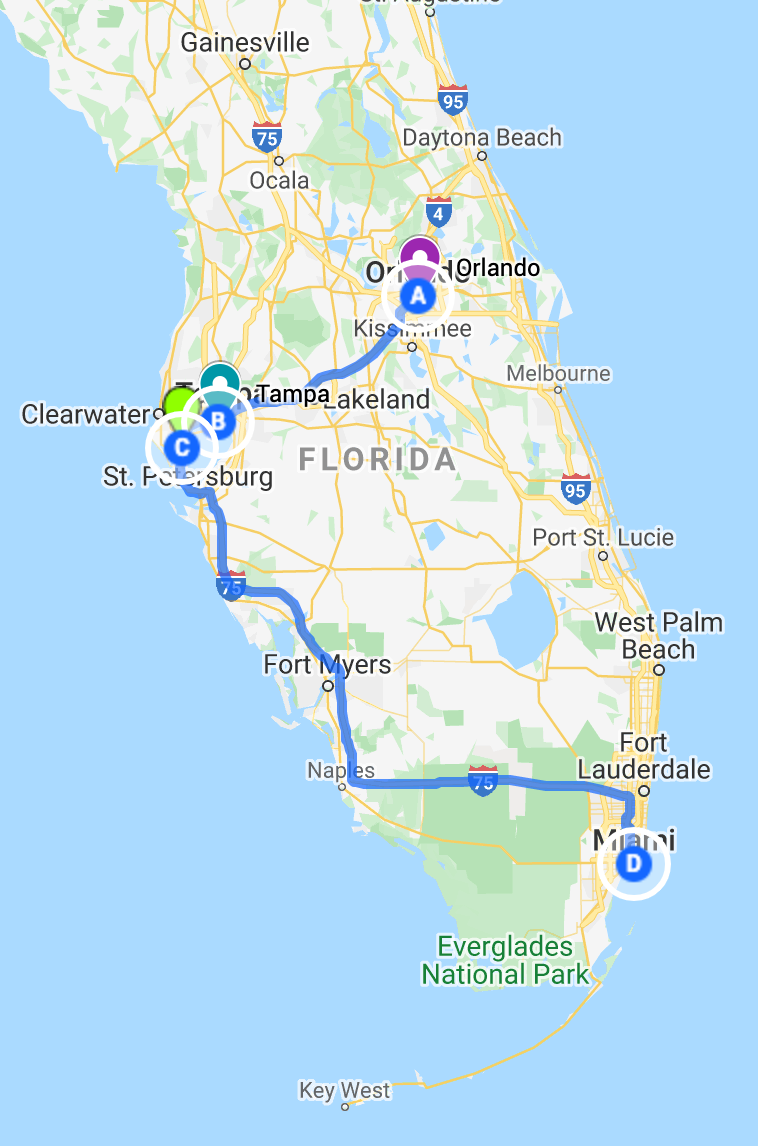 First, I stopped off at the infamous Strength Camp Gym, a gym focused on athleticism, strength and structure. I've been following its creator, Elliot Hulse, ever since 2013 when I first got into fitness. Elliot has been a role model for a very long time - an exemplary person every man should strive to be like. He embodies a perfect mixture of strength, wisdom and spirituality and is most known about clarifying how the body and the mind are so tightly connected to one another. While I didn't get to see Elliot (he's detached from the business nowadays), I did manage to get a session in with the viking Shannon who was at the time CEO. In our training session he got me to set a new Squat PR of 140kg and gave me some crucial pointers on form. It was a wild experience to get to train in the gym which I've watched countless times in my teenage years - goes to show how something that seemed so out of reach at the time was easily accomplished - life finds a way.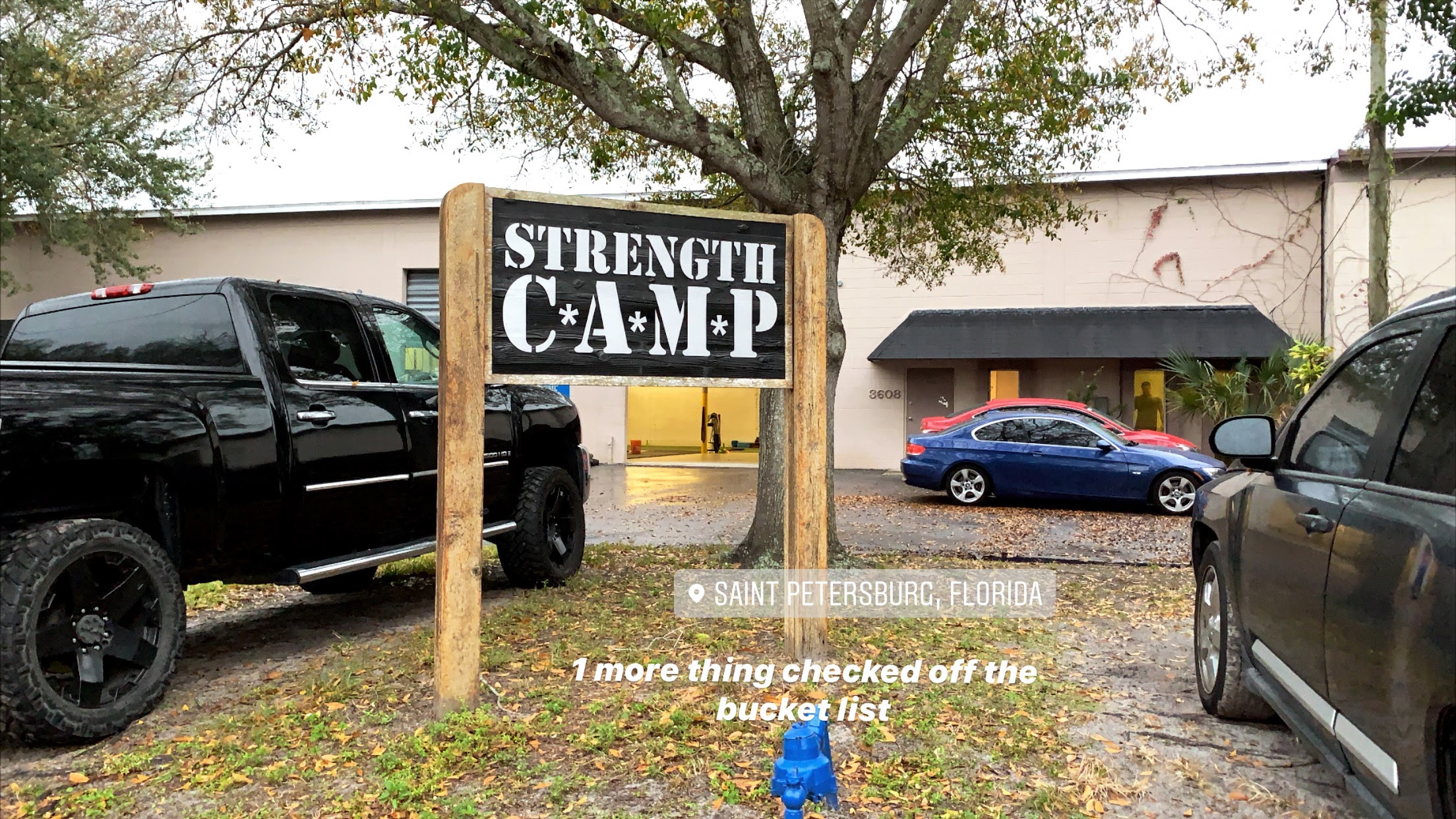 Miami
After the kick-ass gym sessions, I drove down to Miami to get to experience the city. It was also incredibly amazing - the vast road infrastructure that the US has is out of this world - you'll never see such humongous and spacious cities in Europe. It's always a blast to drive fast through their highways.
While in Miami I got to experience their famous urban neighborhoods (Brickell, Little Havana, Wynwood), watched the NFL final in a hostel bar with some other travellers, indulged in the city's nightlife and also got to go to the beach! The weather there was the best I've ever seen anywhere - clear skies and a strong sun in the start of February is something to die for. I got a good hefty dose of vitamin D while there and enjoyed every single hour of it.
One other thing I loved is how colorful the place is - full of beautiful street art, crystal-clear light-blue water and skies, and my favorite - palm trees! In all seriousness, there is something about the way the sun hits that part of the world. The lighting is out of this world - everything looks so beautiful there.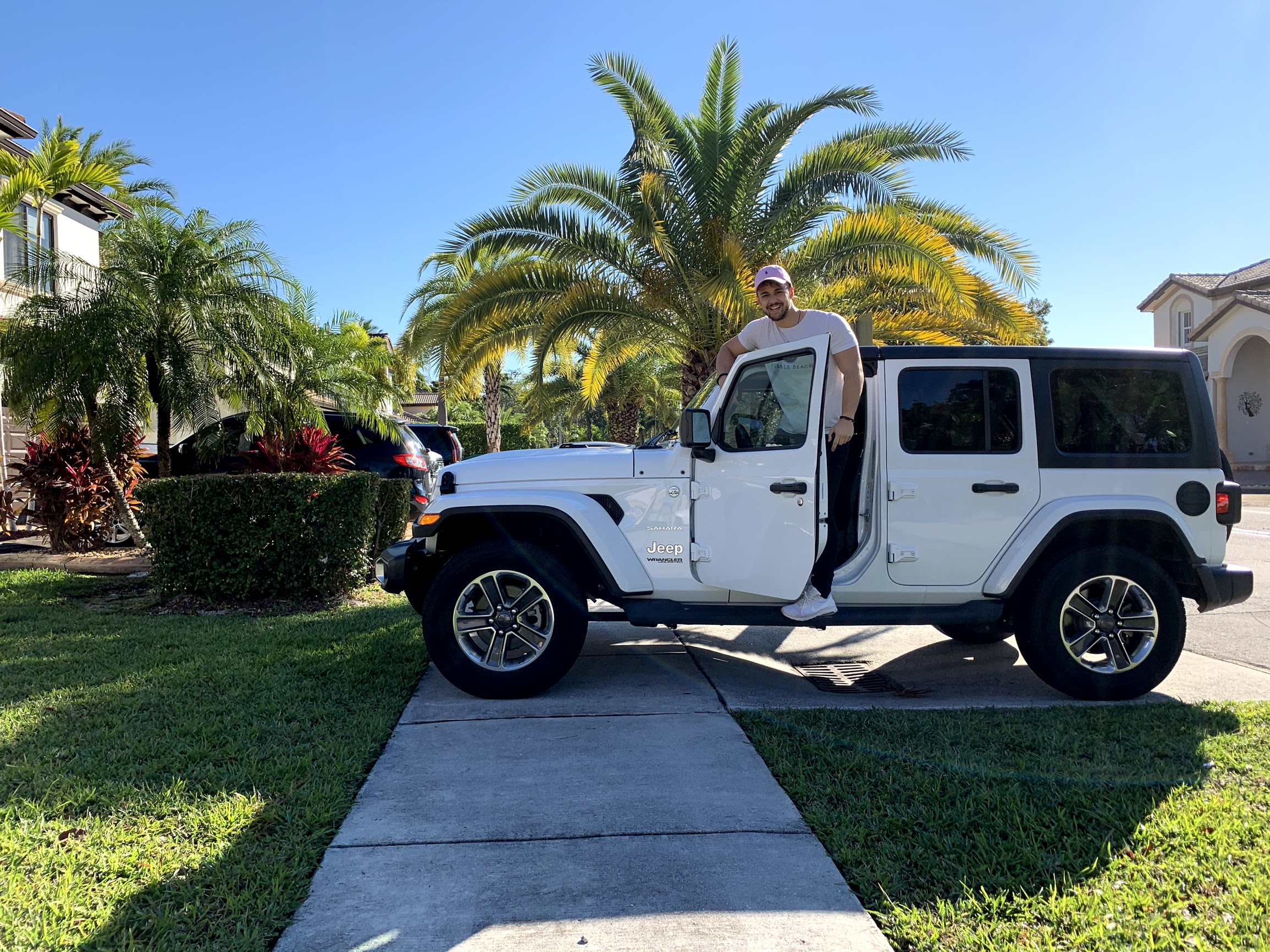 (this picture was not color-corrected. yes, this was shot in the 2nd of February)
Travel Annex
All of this travelling was amazing. I love, love, love travelling to other places due to the way it affects you. One of my favorite videos of Owen Cook summarized in a recent tweet of mine:
The stimulus you put into your mind, the more you get out of autopilot.

New stimulation keeps you awake and makes you feel alive.

Practicing what I preach, about to pursue some major changes in my life :)

— Stanislav Kozlovski (@StanKozlovski) August 11, 2020
Feb Mindfulness/Lay Back
Coming off the last few weeks, it was time to take it a bit easier. While travel is extremely fun and rewarding, it is taxing on both the body and the brain - constant new stimulation, planning, organization and movement leaves you wanting some downtime. February and the months onwards were meant to be that. I flew back to London, restarted my Carnivore diet and decided to take the month easy, focusing a bit more on mindfulness in life. A common trap I've fell into multiple times before is when all the shiny things (instagram, cars, travel, food) that a shallow lifestyle offers shifts your focus into acquiring more of it.
While all of these are fun, they're never fulfilling - a month after the trip is over you're left unsatisfied and all the fun times of the past are left as that - a vague memory. If you aren't mindful of what you're doing and how you're living, you could end up in a downwards spiral of chasing the next high (holiday). Obviously that's no way to live your life and does not lead to anything close to a fulfilled, well-lived life.
That being the case, I decided to focus on something more nuanced. I would begin meditating again, carve out mindful moments in my days and start reading some fine literature. Inspired by ancient history and respecting the Lindy effect, I spent the time studying ancient Greek philosophy.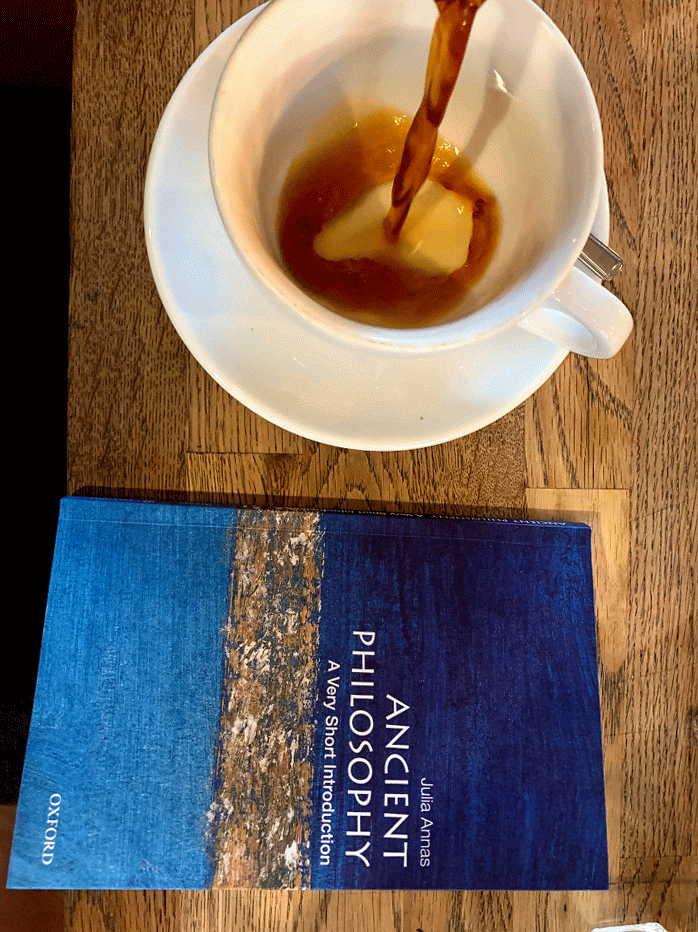 (arête in picture form)
I enjoyed these moments greatly - there was something inherently calming about pouring yourself a large cup of coffee and taking part in some focused reading, especially when the weather outside was very windy and cold.
Bad Weather Annex
Speaking of the cold - February in London was miserable. We had three storms - Storm Ciara, Storm Dennis and Storm Jorge all lash the country within the space of a few weeks. Needless to say, it was incredibly windy - so much so that you couldn't walk outside. Additionally, there was a lot of rain too.
In fact, it turns out that this February was the wettest month in recorded history for the UK! I can attest to that, in the year I had lived here I had never experienced such bad weather. This weather is killer for somebody who's working from home, because it essentially locks you in - there is nothing else to do. This period turned out to be pretty depressing in the sense that I'd finish work and would be left with nothing else to do stuck at home.
Contrast this with how I was out in sunny Miami at a beach a month ago, it made me realize the trade-off I'm making by spending my time in the UK. I started questioning why I'm doing it in the first place. I definitely gained a better understanding of what I benefit and what I lose by living in the UK.
It's important we question things in life that seem simple/obvious, because those are the ones that most often get overlooked. For instance, I know people who still live in my home country of Bulgaria and could not provide a strong answer as to why they're doing it. Questioning such realities are often what drives us to change for the better.
Coronavirus (March-August)
The next few months really blended together. Everything escalated pretty quickly and before you knew it, we had a pandemic on our hands. I was a bit early in realizing that things would get worse before they'd get better and driven by the lack of early action from the UK government, I flew back to Bulgaria on March 14th.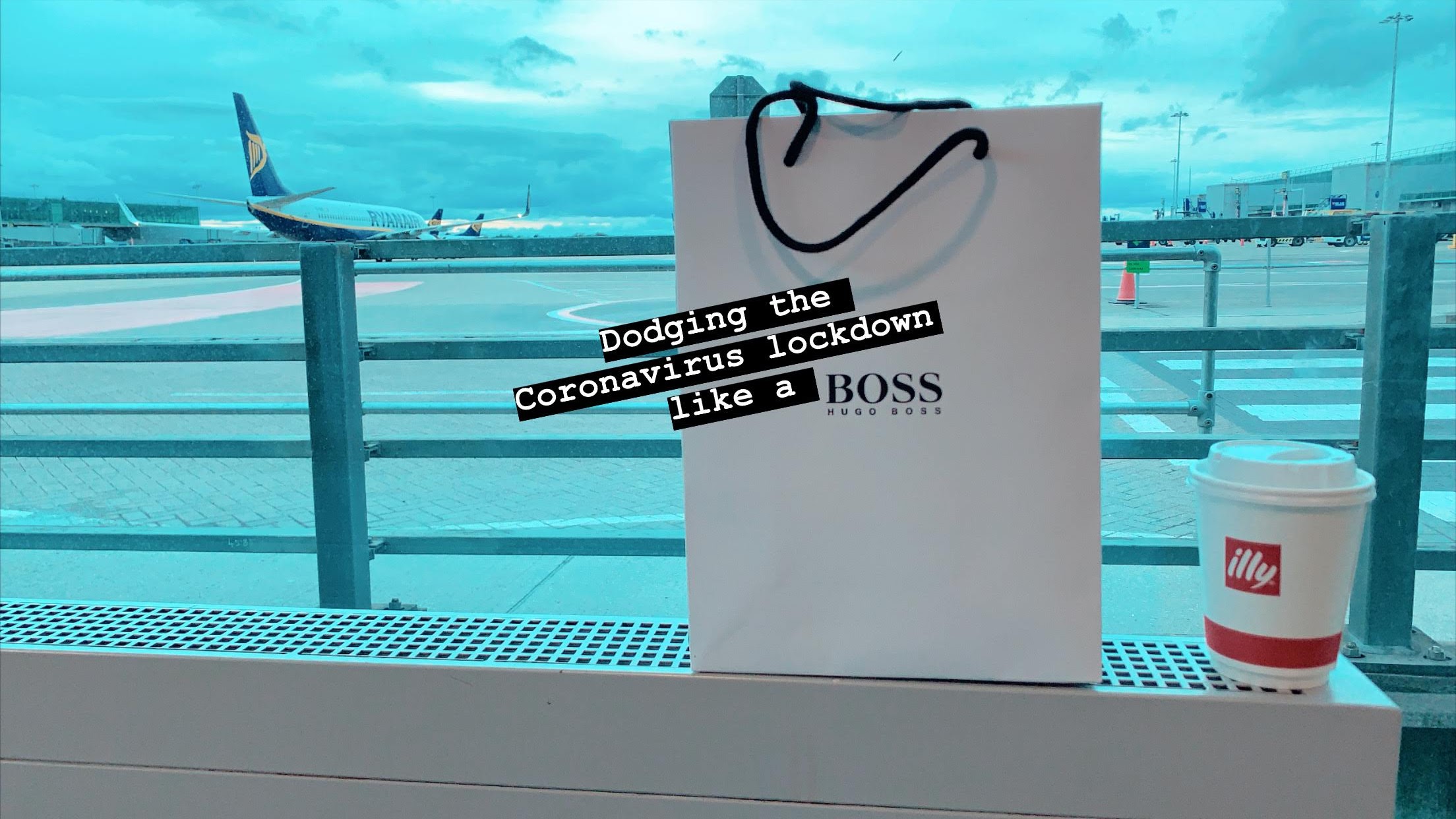 I figured that London, as a major megalopolis/international hub, was sure to get a huge rate of infection, make staying home mandatory and close down businesses. I did not want to stay stuck in my small flat, especially after this February, and I wanted to continue being able to enjoy the gym.
Outdoors
Incidentally, my flight was just the time at which Bulgaria started issuing a lockdown on small businesses and limiting inter-city travel. A highly-criticized move at the time (everybody is critical of the government there), it turned out to be a great call. Unfortunately, that was it for my gym strategy. In the end, I ended up spending a lot of time outdoors, even if I needed to illegally cross the city border:
(this is what you have to do when you want to go on a hike to enjoy the good early-spring weekend weather and there are no mountains in your local city)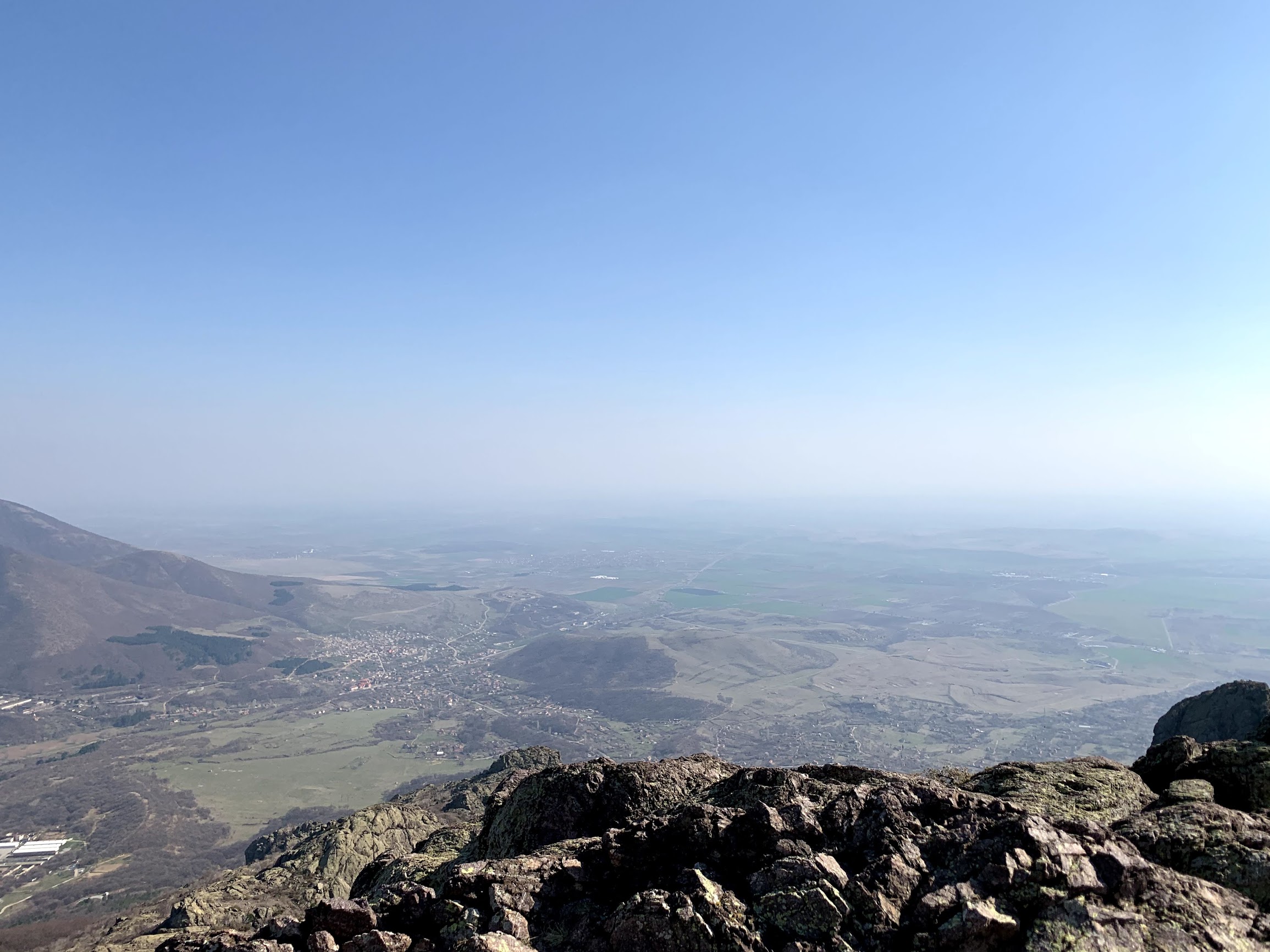 (it was worth it, though)
For working out, I went with calisthenics using pull-up bars outside. I would train shirtless in order to soak in those faint sun rays of March/April and that turned out pretty nicely - I got a decent tan by May without stepping near a beach. The sun's role is greatly underrated in modern life. The mood and health benefits, even if not apparent, cannot be understated.
I also really enjoyed being near my dog again.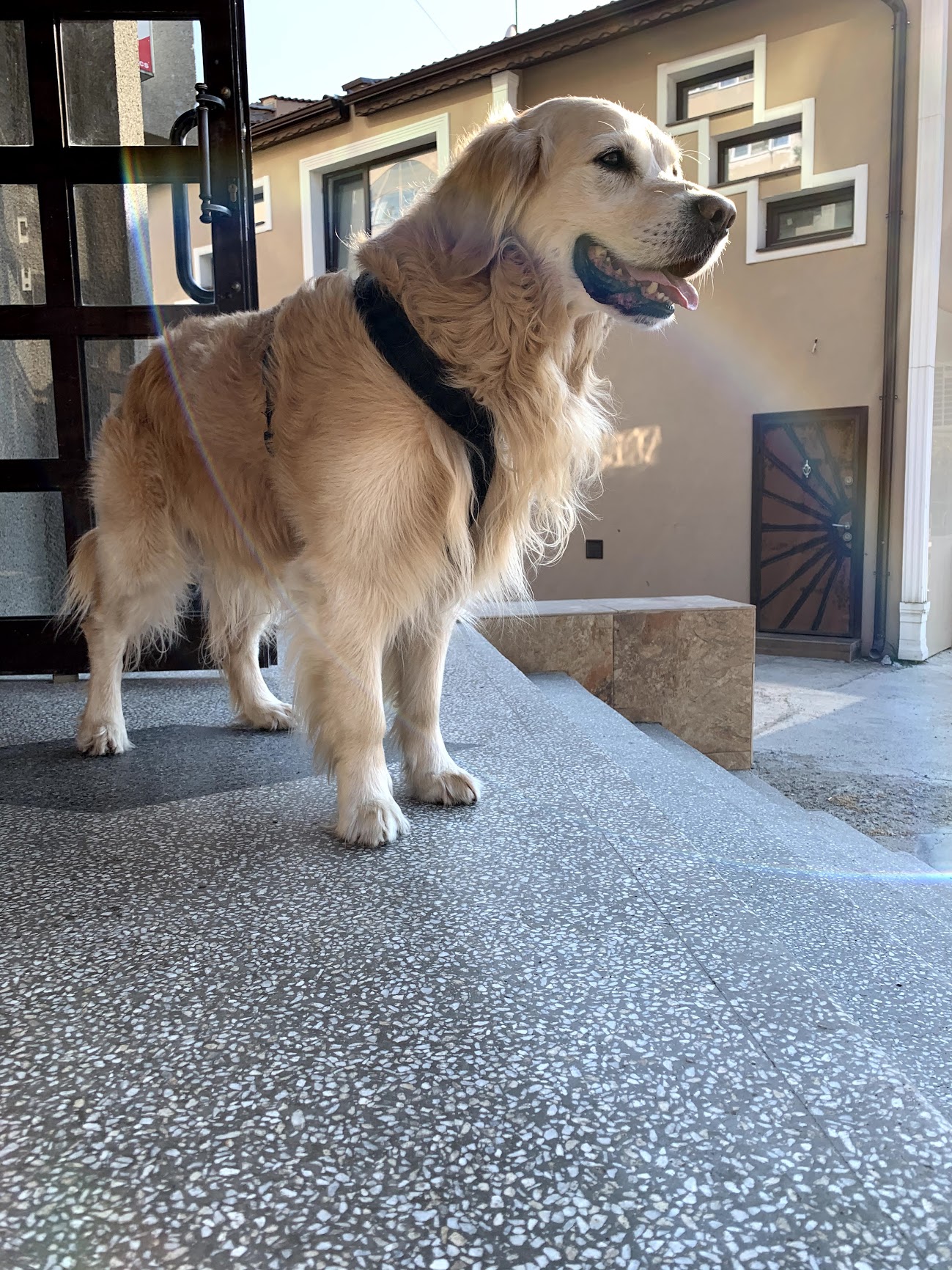 (the beautiful Jesse)
We would frequently go on night walks with him (22:00-23:00) while listening to an educational podcast, mostly about macroeconomics.
Economy
I've been following the economy pretty closely. I'm vastly intrigued by the impact that the virus has had and will continue to have on it. Certainly, there was much to follow. This quote never felt realer:
"There are decades where nothing happens; and there are weeks where decades happen" – Vladimir Ilyich Lenin.
In the short months of March/April, we:
the US passed a 2 trillion stimulus package which let it

Send direct payments to individuals. In particular,

$

1200 for single Americans,

$

2400 for married couples and

$

500 for each child under 17. This was sent to all Americans that made under ~75k.
Student loan payments suspended through September 30.
Unemployment insurance boosted massively - $600 extra *a week*. Many people made more than they did when they were employed
Create a $500B (I believe zero interest rate) lending program of which small business would not have to return any payments for the first six months
Airlines got bailed out with grants (on the condition to not lay off staff until end of September) even though they managed poorly to begin with

saw the largest stock market crash since 2008

two days where the market's circuit breakers triggered, one of which was only 3 minutes after the opening
a one-day rally where markets posted their best day since '08
a one-day fall where markets suffered the greatest day drop since the 1987 stock market crash
a day where the DOW (Dow Jones Industrial Average) recorded its biggest drop in recorded history

WTI Crude Oil Futures Contracts went negative (-$40) for the first time in history

You were paid $40 for a barrel of oil (this is for a futures contract where you're obligated to physically get the oil. The minimum size of such a contract is 1000 US barrels - 190k liters)

US bank reserve requirements lowered to 0

No more fractional reserve banking

the Fed started buying municipal bonds
the Fed started buying corporate bonds
unemployment skyrocketed, setting record highs for number of people losing their jobs in a single week
Throughout this period I have to shout out Real Vision, Anthony Pompliano, my newsletter feed and all of my twitter feed for providing me with invaluable information on what's happening in the economy. I've learned a ton about finance throughout this period and I'm only getting started in that pursuit.
It's hard to predict what's about to happen to the economy next but my thoughts are the the worst is yet to come. Job losses are set to continue and that economic loss will eventually trickle down the economic ladder to bite most businesses' revenue. The only way I can see governments getting us out of this situation is more money printing. In their latest statement, the Fed said it'll focus more on jobs and less on inflation, proving they'd rather take inflation to fix the economy than deflation. While I'm not smart enough to critique the fed, I believe that one flaw in their current approach of bail-outs and bond buying is that it helps keep unhealthy companies alive. That itself is bad for the economy because it reduces the chances of better-managed, smaller companies to enter the space. Companies that have been mismanaged and overextended don't get punished by letting them fail but rather get rewarded for this behavior by being saved by the government. The problem is that this sort of action only further incentivizes such behavior - have executives run the company into the ground, cash out, leave/stay and then get the government to save them because they're "too big to fail". It's worth noting that 2019 had the most CEO departures in recorded history and that major CEO departures continued in early 2020.
Regardless, the way to benefit from this predictable policy is to simply get most of your money out of cash. We have a couple of options - real estate, bonds, commodities (precious metals, etc) and stocks.
The latter of which seems the most inflated - companies are trading at huge price-to-earnings ratios and their prices have only been going up despite the fundamentals not changing, if not getting worse. We've seen some crazy rallies, some of them somewhat reasonable (Zoom) and others totally not (Tesla). Funny thing, I remember hearing a discontent finance guy who had shorted Tesla complain about how the recent rally (February, at the time) made no sense.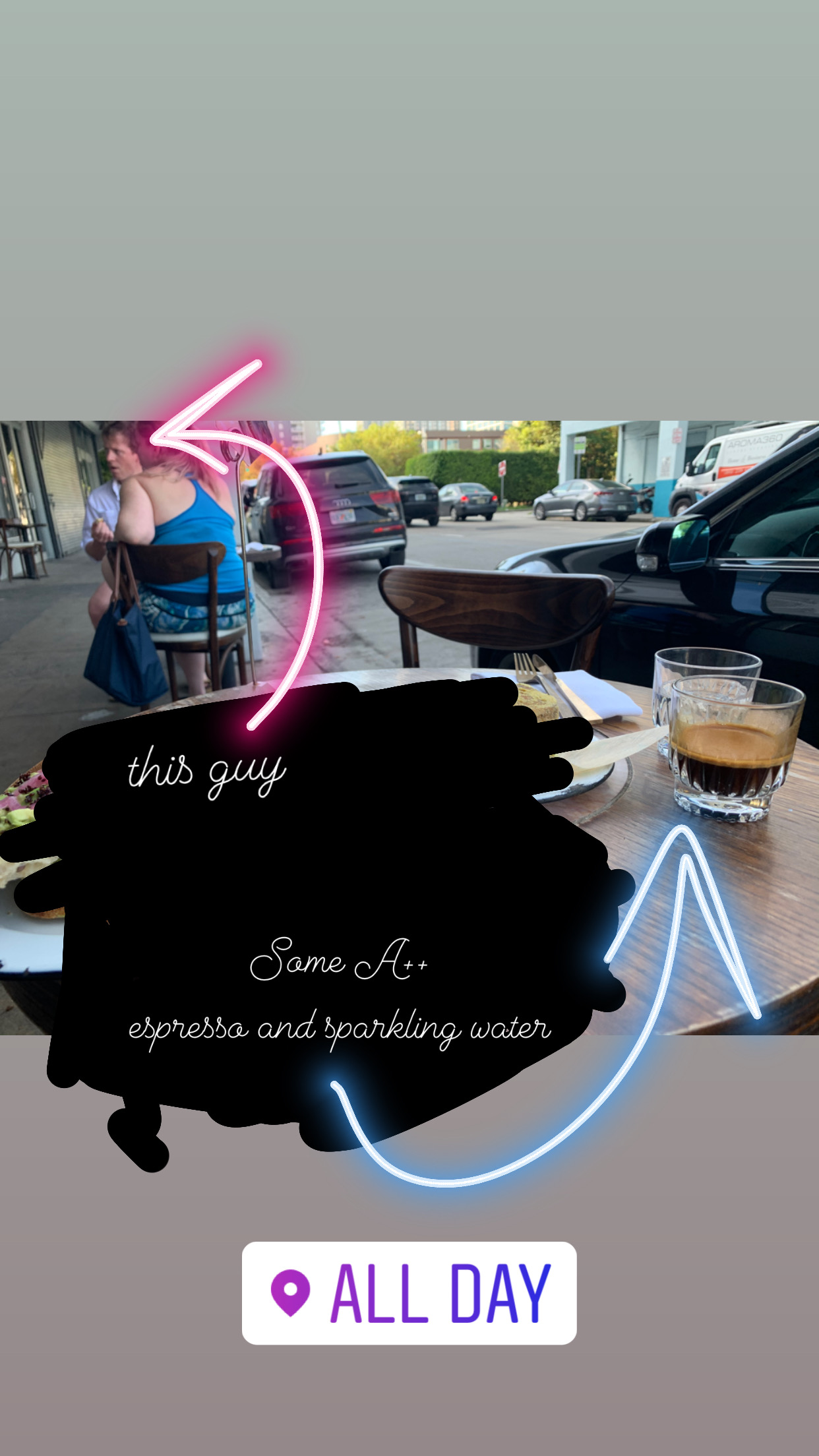 (I hope that guy exited his short position at some point and isn't dirt-broke right now :S)
All in all, I think that currently the market is riskier than it appears. It seems like the market is ripe for a correction, but that's just my thoughts and I could be wrong.
Personally, I currently feel most safe keeping money in a proven store of value. I'm talking something like precious metals - e.g gold.
Crypto
Bitcoin can also fill the role of a store of value due to its digital scarcity and numerous other similarities to gold.
To play devil's advocate, though, it closely followed the stock market and fell during the liquidity crunch in March: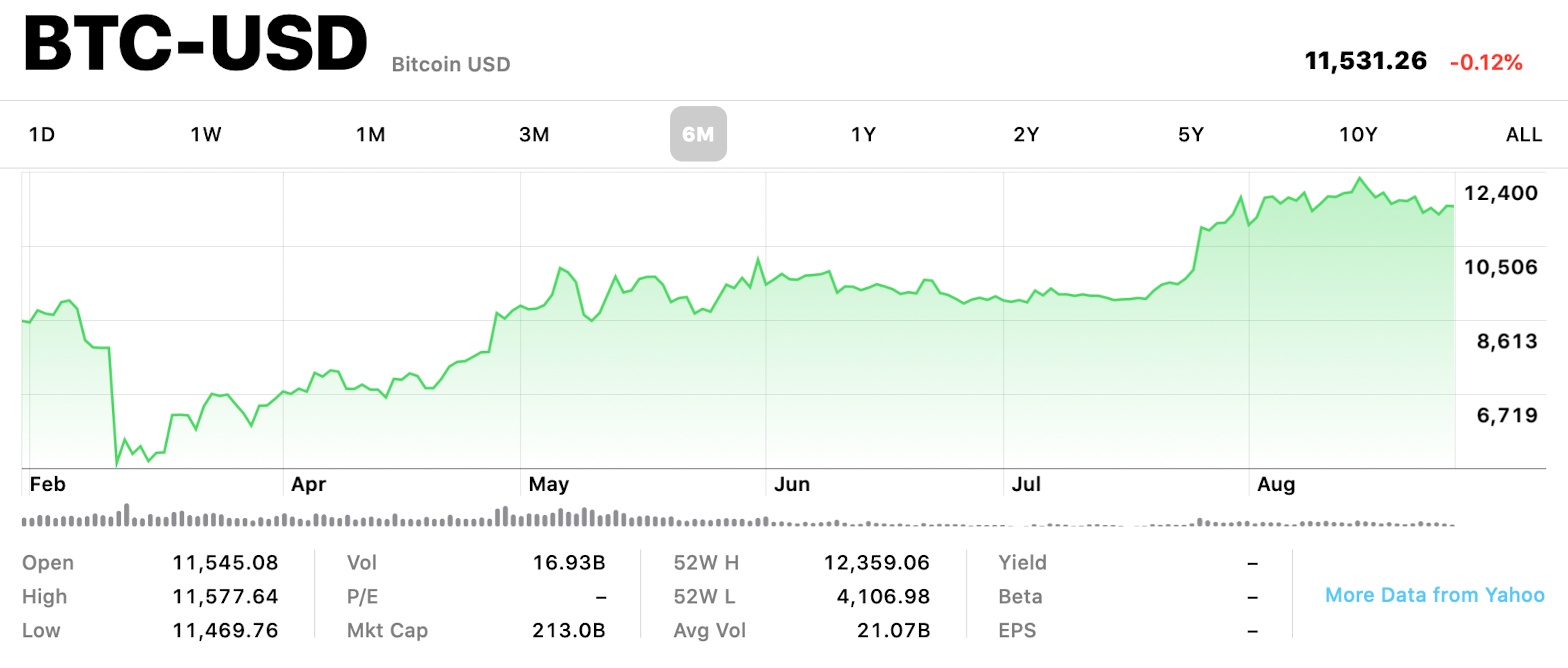 I still believe in the asset and if anything it's only increased its fundamental value by:
and it has continued to prove itself by:
Other fun stuff in crypto is that Ethereum has been rallying like crazy due to the recent DeFi boom. For those that don't know, Decentralized Finance (DeFi) is the use of financial instruments in a decentralized way through smart contracts. It's all the hype nowadays - it experienced a massive boom during the summer.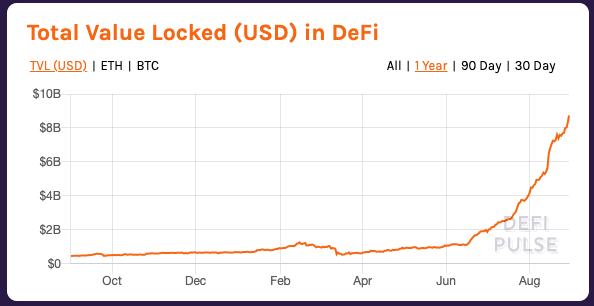 I remember watching it climb from $2.2B to $3B and then $$B. As of writing, it's $8.75B which is wild. This, along with ETH's progress regarding v2, explains the rally in Ethereum's price.
Virus Response
It wouldn't be a 2020 blog if I don't mention my thoughts regarding the coronavirus.
I believe that most governments overreacted to the threat and relied on fearmongering in order to get people to obey their crazy regimes. Hindsight is obviously 20/20 and I believe that most governments did the right thing early on by erring on the side of safety but they eventually overdid it. If we ever see a second wave of strict lockdowns, there'd be no valid excuses.
"Can't let a good crisis go to waste" is a quote that made a lot of sense throughout this period. A lot of governments used the crisis as a nice excuse to beef up surveillance and test how much they can control their population. I've actually been concerned at how easy people were made to stay in what resembles house arrest for long periods of time.
In the end, the overton window of what's allowable has shifted for the worse. People are currently more susceptible to being locked down for extended periods of time. While a second global lockdown probably won't be accepted, some finer-grained, more targeted lockdowns will be - an example would be the government making you quarantine in case you recently came into contact with an infected person. The sad part is that they will easily have that information just from your mobile phone as the two major phone operating-system companies are co-operating in tracing COVID contacts in a way you likely won't be able to turn off. This is one concrete example playing out amidst numerous others being proposed/considered.
Worse off, we've been hearing conspiracies about microchip vaccines and correlation between the 5G rollout and the virus. The real unfortunate truth has been that these theories have been heavily censored by the major media platforms. The example I'm most familiar with is London Real, a long-running self-development show where host Brian Rose interviews successful individuals. During the pandemic, London Real hosted an interview with a popular conspiracy theorist mentioning 5g and the coronavirus. For the weeks after, the video got censored on all major platforms - YouTube, Facebook, Instagram, Spotify and Vimeo. Additionally, London Real got totally suspended from LinkedIn and DropBox. They literally erased all he said and drove him to create his own independent platform.
While I'm not one to believe there's a link between 5g and the virus, I can certainly say that there's something fishy in how this censorship is playing out on platforms we'd never have expected this from. It's sad, but our freedom of speech is slowly being eradicated and the virus has only sped that up.
Another depressing example is protests against the COVID measures that aren't reflected in the media at all. For example, Berlin had a fair number of protests.
The virus has exposed a lot of shams in our society. It showed that the World Health Organization could not be properly trusted - something I believe expands to the whole medical industry. Many posts have been made on how the virus can kill even young people, totally ignoring factors like metabolic age or how much inflammation the person has.
My personal belief is that the virus is not as deadly as portrayed for healthy people. The only reason there have been so many deaths from this virus is because the average person is extremely unhealthy.
If this virus didn't help you realize, maybe this tweet will:
Doctors won't make you healthy.

Nutritionists won't make you slim.

Teachers won't make you smart.

Gurus won't make you calm.

Mentors won't make you rich.

Trainers won't make you fit.

Ultimately, you have to take responsibility.

Save yourself.

— Naval (@naval) August 10, 2018
US Move 🇺🇸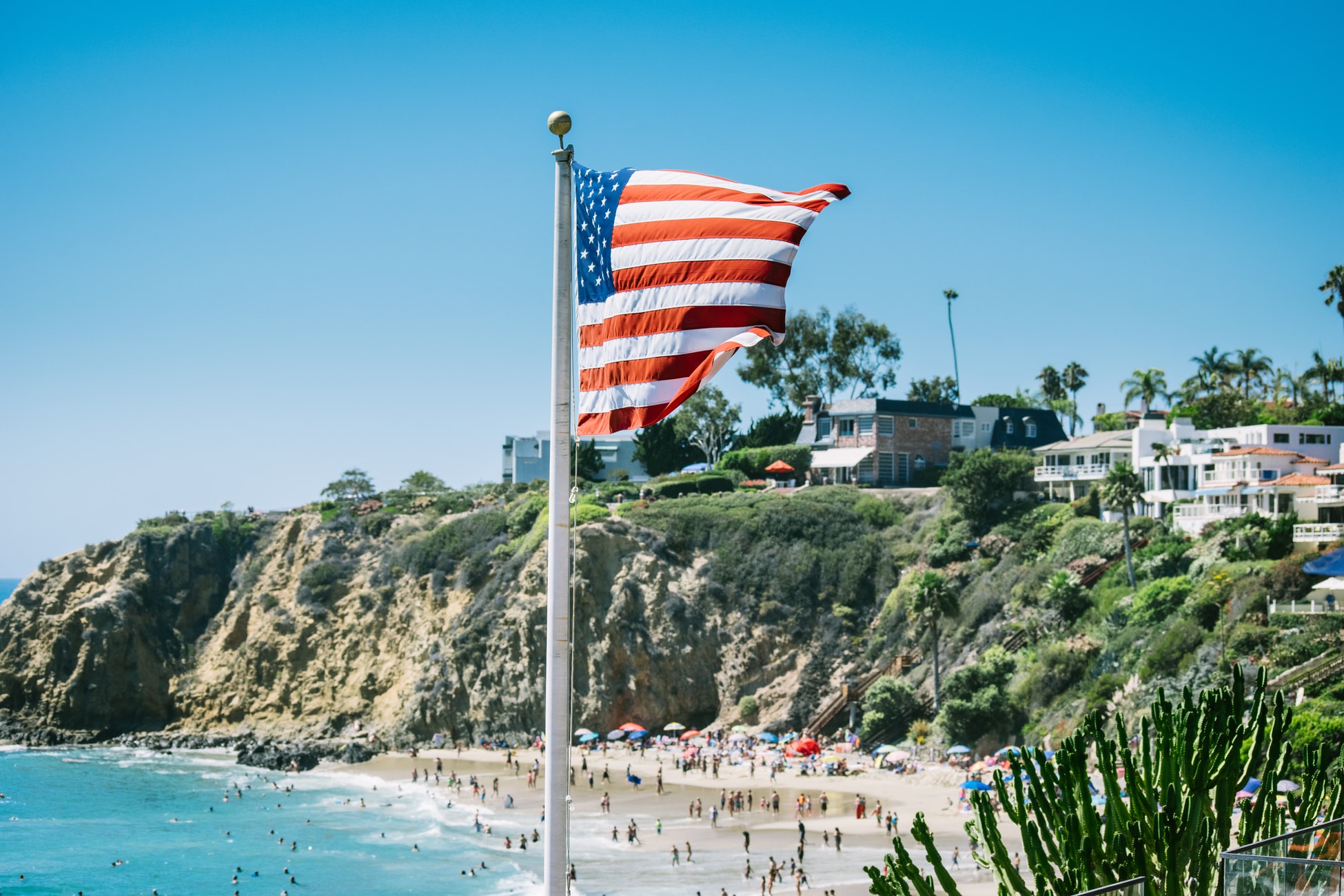 I was planning to move to California with Confluent in 2020. I greatly anticipated that move but over the time I started having second thoughts and now I've ultimately decided against the move.
The first roadblock was that it was slowed down. We were planning on moving in Feb/March but when the company dove into the process it realized that the application for a visa is harder for a person like me who lacks higher education. To make the case more appealing, they wanted me to pass two years with the company and then apply. This was set to be done in June 2020 and given the normal application processing times (3 months), I was looking at a potential move around these months (Sept/Oct 2020). Unfortunately, the coronavirus complicated everything - the US stopped all visa processing until the end of 2020 and who knows if it'll be resumed in 2021 if Trump were to get re-elected (something I believe is going to happen).
Further, I predict that remote work will blow up following the pandemic - there's no way that office life will be the same in the next 1-2 years. Something like meeting rooms are unlikely to ever get utilized the same way as before.
I wouldn't like to wear masks inside an office all day neither. I don't know what my specific company's policy will be, but I do think that a lot of people will move to remote work full time or at least during most of the week. A lot of people are moving away from San Francisco into Austin too.
It's a bittersweet feeling - I really wanted to do it and spend my 20s in California but this along with some other factors have led me to pursue other things. More on that in a later post.
BLM ✊🏿
Talking about the US, they've had some wild protests recently. The BLM protests seemed to had been taken over by a far-left terrorist group called Antifa - they'd place bricks in the middle of main city streets where no construction was taking place in hopes to entice violent behavior.
From my limited overlook, some left-leaning cities have went truly wild with violent protests almost every night, blocked-off autonomous zones where police aren't welcome, ideas about abolishing police entirely and at one point every major city in the US had protests in it.
I'm not going to collect them here but a quick Google search can reveal some very disturbing videos. I've seen all sorts of stuff, from white people being humiliated (made to kiss the feet of blacks, marched in chains as a nod to past slavery), extreme vandalism, innocent white people being assaulted for no reason to even people shooting each other.
I can only imagine things getting much worse during and after the election - the political divide in that country is bound to climax at some point. A lot of history books will be written on the events unfolding right now.
Work
Confluent has been progressing crazily well throughout the virus as well. We kicked off Project Metamorphosis, an 8-month long initiative in announcing different themes around how Confluent's platform helps organizations use event streaming to unlock new business, exceed customer expectations and drive operational efficiencies. In non-business speak - the product is improving at a rapid pace. We're on the brink of a very large 6.0 release and are in the midst of developing some very impactful features.
The company also raised a Series E investment very early during the coronavirus - a move I thought was incredibly prudent at the time.
Misc
Diet
I had broken my carnivore diet a bit in Florida but quickly restarted it in the UK. I kept it until mid May in Bulgaria when they opened the gyms back up. Right now, my diet allows for some carbohydrates from very limited source. I was inspired by Sol Brah for a gut-friendly diet consisting of the same old animal products coupled with some fermented foods (Sourdough Bread, fermented vegetables and etc.)
Drake Mixtape
Drake also posted a new mixtape - Dark Lane Demo Tapes
which had some incredible pieces, including what I perceive as a classic - Chicago Freestyle. A lot of nights were spent listening to that album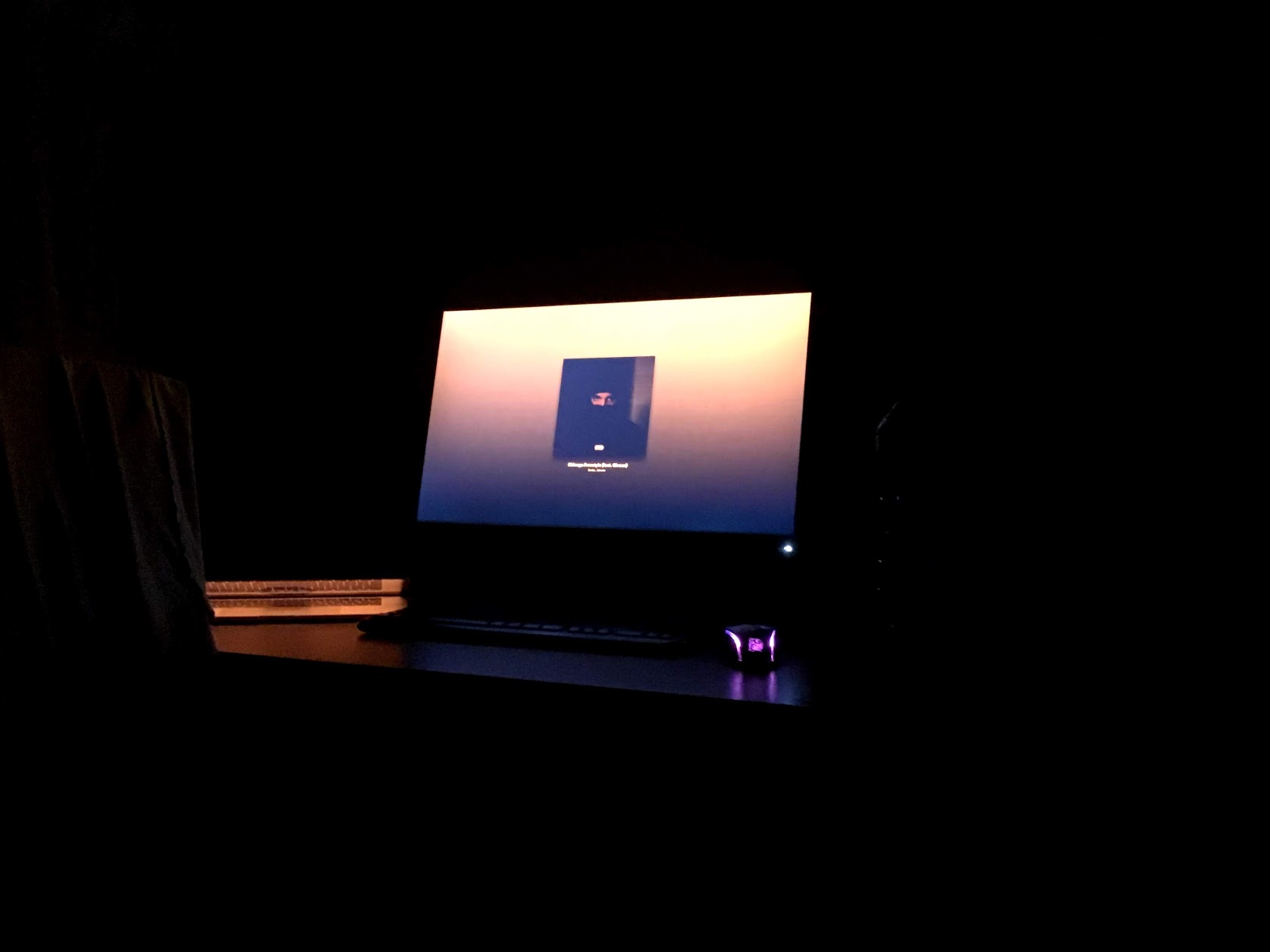 Additionally, we got two singles with DJ Khaled - POPSTAR and GREECE. Both were awesome bangers for the summer, although I preferred a slowed-down version of the GREECE song.
In any case, this will go down as a Drake year. We're expecting his 6th studio album, Certified Lover Boy, to drop any time now. One preview of the album is Laugh Now Cry Later:
It's going to be an amazing album I'm sure. Can't wait!
Minimalism
Simplicity is something I've surely come to appreciate throughout this virus-induced period. It has really shown me the value of minimalism and stillness. What we did by closing everything down was basically a forceful dopamine detox of the whole world. Not having to commute to work, subsequently not being in a hurry all the time, not spending as much time in cafes/bars and not going shopping all showed that life can be fulfilling without these shallow pleasures.
There is something to be said about this crazy, modern consumer culture that we all feel is normal because it's so deep-seated in our society.
"We're in such a hurry most of the time we never get much chance to talk. The result is a kind of endless day-to-day shallowness, a monotony that leaves a person wondering years later where all the time went and sorry that it's all gone." - Robert M. Pirsig
I've been resonating less and less with that culture and I've been looking at ways to detach. What else is that, thanks to my Twitter and now Instagram feed, I've started becoming obsessed with mediterranean architecture.
There is something to be said about the beauty of the mediterranean - the relaxed lifestyle, the healthy diet consisting of high-quality ingredients and the beauty in the old architecture remind me of simpler times.
Conclusion
Right now, I'm finally back home in London. While London suffered some intense heat waves (35C+ without any AC), toward the end of August it's been very cold - 22C at most. It definitely feels like October/Novemeber weather-wise.
Regardless of that, it feels good to be back in my nice home office. I made good use of Bulgaria by frequenting beaches as much as I can while there but throughout the whole period I felt sort of stuck. I do not feel like any meaningful progress was made and I'm excited to get back at it.
And with all of that I've finally cleaned my plate for this personal blog!
I say goodbye for now but I promise to continue posting. About to pursue some new things yet again because WE GOTTA KEEP LIVING.
Adiós for now,
Stan